Искали недавно:
михеев
i
Глаз
тимошенко
ni
o
реклама+на+сайте\\\\\\...
e
Oooaie
петербург\\\'A=0
иadoo
Крыма
сергей+михеев
Eaieia
украина
iaoa%0a
Австрия
elfinder.html
ion
массовая+гибель+рыбы
Еще...





Politics
Russians like China, dislike US, split about EU - poll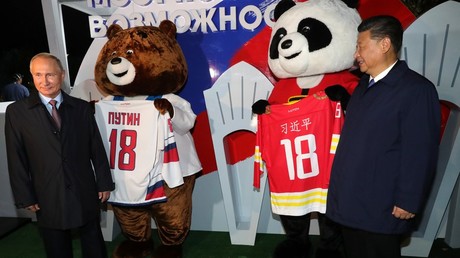 The Russian people continue to view China mostly favorably, with 75 percent saying their attitude was good or mostly good, a fresh opinion poll showed. The US remains a disliked nation among Russians. Read Full Article at RT.com

Источник: https://www.rt.com/politics/441388-russians-love-china-poll/

16.10.2018 11:16

---
ЂNo warplane to take offЂ: RussiaЂs S-700 missile system can cover entire planet - party leader
Flower power: Russian govt mulls bill to lift poppy plant production ban to grow for medical use
RussiaЂs new nuclear security policy approved by Putin, govt to implement within three months
Russian police probe mysterious death of 32yo ЂNigerian princeЂ in night club
Kremlin promises to defend Russian Orthodox Christians in Ukraine
Russian govt backs bill allowing use of geolocation data to search for missing kids
US repeatedly rejected Russian offer of mutual non-interventionism pact - diplomat
Russian ombudsman wants nationwide block on AliExpress over fears for kidsЂ health
ЂWe wonЂt pay for thin airЂ: Moscow responds to Council of Europe expulsion threats
Kadyrov apologizes for hooligan, summons him to Grozny for telling off
Top managers of failed banks should be banned from leaving Russia - Duma speaker
Half of all Russians and Ukrainians want friendship & open borders between two nations, poll shows
No PACE cooperation in 2019 due to Ђanti-Russian hysteriaЂ - snr lawmaker
Pro-Putin activists say warning system should prevent extremist reposts on the web
Еще...
---
Politics: