Èñêàëè íåäàâíî:
oooaie
ñáåðáàíê
news
Îõòà+öåíòð
àëîíñî
e
ðåçêèé
Ïîëòàâ÷åíêî\\\\\\\\\\\...
Ëóêàøåíêî
âèäåî
Eo
ñøà
A
ôðàíöèÿ
ðîãîçèí
îáàìà
o
ni
iooei%0a
wp+admin
Åùå...





UK
Russia is €culpable€ over ex-double agent poisoning, claims Theresa May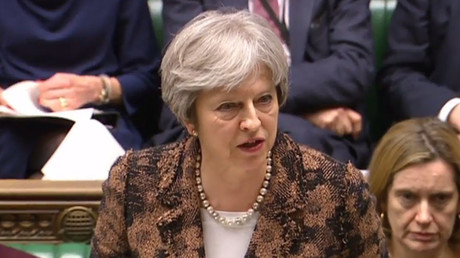 Britain will expel 23 Russian diplomats and suspend all high-level contact with the country, Prime Minister Theresa May said. It comes as part of a range of measures in response to the poisoning of ex-double agent Sergei Skripal. Read Full Article at RT.com

Èñòî÷íèê: https://www.rt.com/uk/421260-may-pmq-russia-spy/

14.03.2018 11:59

---
Britain seeks urgent UN Security Council meeting over Salisbury spy attack
Top private girls€ school to introduce gender-neutral toilets in case pupils want to transition
Terrorist-supporting parents could have their children taken away, govt warns
Judgment Day: Putin€s midnight deadline has terminated, so what will Theresa May do next?
€Premature€ to blame Russia for spy poisoning, Salisbury residents say (VIDEO)
€B****** to Brexit€: Commons Speaker Bercow called to resign over anti-Brexit sticker
Sanction Chelsea and Arsenal? Pull out of the World Cup? Ban RT? Just how could May punish Russia?
'Don€t try anything rash€: Russian Embassy urges UK to rethink rumored cyber attack
Father subjects daughter to FGM twice to €punish her,€ Old Bailey hears
UK TV regulator writes to RT, says it may consider whether channel's license is 'fit and proper'
Muslim MPs sent €Punish a Muslim Day€ letters encouraging mosque bombings
€Just because the poison was made in Russia doesn€t mean they€re behind it€ - ex-MI5 officer (VIDEO)
Generation Identity activist was €also member of banned Nazi terrorist group€
Cannabis-seed seller faces US extradition despite breaking no UK laws
Åùå...
---



UK:




2018-06-23


22:52 Thousands hit streets of London to protest and support Brexit, demand new referendum (PHOTOS, VIDEO)

13:13 Posh London school€s €Austerity Day€ lunch turns stomachs on Twitter



2018-06-22


16:42 Nazi-saluting drunk tries to escape on tug vehicle after EasyJet rampage

16:41 €You can stay here after Brexit€: Home Sec Javid bizarrely tells Welsh MPs they can live in UK

15:29 As May picks the NHS over defence, is the UK government really worried about Russia?

15:07 Gender-neutral passports rejected as court rules specifying sex is not discrimination

14:16 Philip May and family profit from Trump€s caging of children in detention centers

13:59 #ICYMI: Kids in cages and drowning in the Med, life€s tough for the modern refugee

12:59 Prince William should visit Gaza after Israeli bloodshed, chief of UK Palestinian Council tells RT

12:41 €Baffling & embarrassing€: Fawning Theresa May bowing to prince sparks mockery online

11:35 €She€s a very bad prime minister€ who needs to be €kicked out€ - Tories€ biggest donor on May

10:43 We had a €poof€ & €no slave owners€: Monty Python€s Cleese slams BBC €too white & Oxbridge€ claim

10:32 Donald Trump already planning second UK visit post- Brexit, recording reveals

09:17 White pupils lag behind because they lack immigrant families€ €drive,€ Ofsted chief says

08:30 Homeless man jailed for using lost number to finish London Marathon

06:43 Man detained after bomb scare at London€s Charing Cross rail station



2018-06-21


16:21 Billionaire Branson€s Virgin Care successfully sues NHS for £2m in public money

15:39 As NATO chief pleads for alliance unity, MoD ministers warn €Russia is preparing for war€ (VIDEO)

15:02 Pedophile hunters confront Home Office employee accused of grooming 12yo girl

14:04 Couple forced to live outside UK have house turned into weed farm and destroyed by fire

Page generated: 0.73